Use your Visa or MasterCard to purchase Bitcoin and qualify to receive free pills and free delivery in the EU.
Buy 30 - 60 - 90 tablets - Earn 20 extra free!
Or
Buy 120 - 150 - 180 tablets - Earn 40 extra free!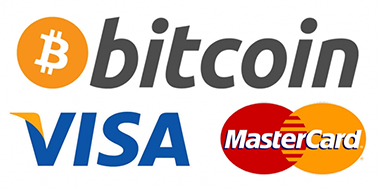 Bitcoin Explained
Bitcoin is a decentralized cryptocurrency, meaning there are no governing or regulatory bodies watching over transactions. In nature, Bitcoin is like a foreign currency except it is digital and exists only on the internet.
Purchasing Bitcoin is simple. First, you will need a crypto account on a website like Coinbase. In order to set this up, a smartphone, tablet or PC is needed. To verify your account, you will need a current passport or driving license handy.
How to Set Up a Crypto Account
Below are three simple steps needed to set up your crypto account:
To make a crypto account go to Coinbase, enter your email address and follow the prompts, be sure to have your ID with you.
Verify your account using your driving license or passport. Once complete, you can add a credit/debit card to the account.
Using your Visa or Mastercard, make a payment to Coinbase and add Bitcoin to your crypto wallet.
Bitcoin Payments
Making payments by Bitcoin could not be simpler. Once you have selected the medications you wish to order, go to checkout. At this stage, select Bitcoin as your preferred method of payment. We will immediately send an email to you which will include an address for a Crypto wallet which you can use to send your payment.
The Benefits of Paying by Bitcoin
As payments using Bitcoin over the blockchain are instantly received, we can get to work processing your order sooner without waiting for payments to clear.
Also, as payments are made over the blockchain, there is no middleman such as a bank or government watching. On your statement, all that will be visible is the payment you made to Coinbase with no reference to any products or services from our website. This makes it completely confidential.
Helpful Tutorials on YouTube
Tutorials on YouTube can make things a lot easier. Below are three videos which will cover everything you need to know about setting up a crypto account, verifying it and sending crypto. We hope you find these videos helpful:
In Need of Help?
Should you have any further questions about this promotion or how to set up accounts to pay by crypto, be sure to message our helpful customer services team. Queries can be made by live chat, email or phone, and our agents are available 24 hours a day.